Co-creating care robotics business and innovation ecosystems
Published: 12/03/2018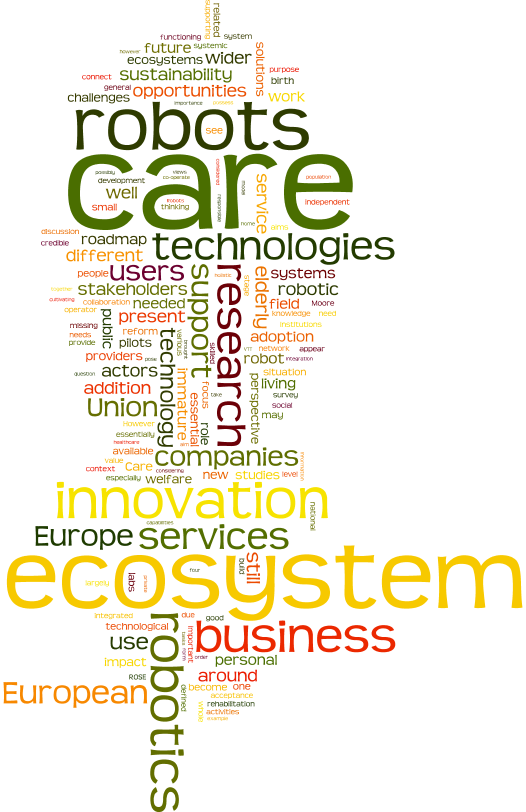 There is lots of activity among robot technology providers in the care service field in different countries. Piloting of care robots in different use environments is underway. Companies recognize the business potential, but also face many challenges. For instance, they need research data to support their solutions and sales: wider-scale impact studies to justify technology solutions. The business field is also quite fragmented and companies are often small, especially for international markets. Many still pursue their own advantage only, and there is not much maturity for collaboration. A new, larger perspective for considering care technologies and renewal of care practices and operational models would be needed.
Companies should be seen as part of an 'ecosystem', where companies cooperate, compete and co-create capabilities around a new innovation.
The ecosystem also needs to cover various relevant actors from different sectors, in addition to companies, and focus essentially on users.
The European Robotics Forum will take place just next week (13-15 March) in Tampere, Finland. As part of the program, we are arranging a workshop session
Building care robotics business and innovation ecosystems
to support creating the 'ecosystem mindset' among stakeholders - developers, business people, researchers, policy makers, end users, service providers… - in the field of care robotics in Europe. The workshop will utilize interactive, participatory methods
to
contribute to building care robotics business and innovation ecosystems from various points of view, and seek
s
answers to questions such as: - How can robotic care technologies, related services and service users be connected in an increasingly skilled manner? - How can business and innovation ecosystems be cultivated on the three essential levels; users, organizations and the society? - How could challenges in obtaining a systemic view of the use of care robots be overcome in collaboration between various stakeholders? - What could be the role of international collaboration in cultivating ecosystems?
The workshop will result in a visual roadmap that highlights essential steps in building pan-European ecosystems on care robotics.
Marketta Niemelä, VTT & Helinä Melkas, LUT
"Robotics in Care Services: A Finnish Roadmap"
http://roseproject.aalto.fi/en/publications
From Terminators to Careminators
Published: 20.2.2017

Robotics has wide potential of improving people's quality of life. Developing an ecosystem of service robotics pursues a solution especially to the growing need for social and health care of elderly people. However, utilizing robots in the welfare sector is a world of multiple contraries, differing attitudes and balancing between beneficence and nonmaleficence. Do robots cause jobs being terminated – or rather increase work opportunities? Is a heavy-lifting robot also a security hazard? Will social robots decrease loneliness or cut out all human contacts? Are social robots terminators or careminators?
Robotics in Care Services: A Finnish Roadmap
Published: 7.6.2017
Robotics for care are believed to hold great potential for increasing the productivity and quality of health care and welfare service provision. In order to support this view, a roadmap is conceived that aims to provide an overview and future directions of care services, the  technologies that assist such services and how it affects the innovation and business ecosystem.

The main mission for this roadmap is to inform the discussion as well as to engage in the debate of the opportunities and challenges in the Finnish context. The roadmap provides recommendations on policy and identifies open research directions. In its current form, the roadmap was released to the general public and the Finnish government body in June 2017. As a living document, the roadmap will be revised in the future and released on suitable occasions.
The (Care) Robot in Science Fiction – A Monster or a Tool for the Future?
Published: 21.11.2016

Quite recently, care robots have begun an invasion into our lives and have given rebirth to the hopes and concerns considering both utopian and dystopian technological futures. When introducing a new generation of service robots in our daily lives, it is therefore interesting and important to consider how they have already been imagined in science fiction, as these imaginations can be used to make visible the problems as well as promises inherent in close relationships between humans and machines. The main motivation of this short introduction to science fiction is to enhance dialogue on the human and non-human dimensions of robots.